Direct Programmes
Direct Programmes are implemented and monitored entirely by CASA in the disadvantaged areas. The staff stays with the community to understand their problems and issues.
Our focus is primarily on promoting sustainable livelihood, education, gender mainstreaming, disaster risk reduction and community participation in the local capacity building initiatives. As per our policy, we aim to prepare community members so that they help each other in the longer run. CASA's role is that of a facilitator as we believe that transformation and development is in the hands of the community.
Sustainable development programmes in 13 states
Under this programme we directly work with the poorest communities across India by organising and mobilising people for sustainable and economic development through use of local resources and traditional and democratic institutions. This programme also falls under our Core Programmes.
Comprehensive Food Security Program (Maharashtra)
This particular programme is implemented in Maharashtra's drought-hit Yavatmal district where small farmers, sharecroppers, women, landless and other vulnerable people face high debt burden and are susceptible to suicidal tendencies. CASA works on the issues of farmers' suicides and their access to livelihood by incorporating sustainable agricultural practices, building community's resilience for facing environmental challenges among other such models.
Food Security for Community Mobilisation (FSCM) Programme (10 states)
This special programme creates employment opportunities for the neediest communities, making them self-sufficient and self-reliant during crisis period. Food grains are given as wages to the people enrolled in the programme. From creating and renovating land for cultivation to construction of multi-purpose water harvesting structures in their village, FSCM steadily builds capacity of the reference communities.
Elimination of Lymphatic Filariasis (Odisha and West Bengal)
Lymphatic Filariasis is an infectious parasitic disease transmitted by mosquitoes causing permanent or temporary disabilities – mostly on the lower portion of the body. Mosquitoes infect humans by injecting roundworms in the blood stream which further breed and attack the lymphatic system of the body. The crippling disease is very prevalent in Odisha, West Bengal and other tropical states of India. CASA extensively provides medical care and teaches disease management techniques to those affected.
Child Labour Free Zone Project (Tamil Nadu and Andhra Pradesh)
Abject poverty and lack of livelihood opportunities cause a trickle-down effect on the mental and physical growth of children, as they drop out of schools to work as labourers. CASA ensures overall development of these children in the two states by giving them an opportunity to study again and resume their education at CASA's Bridge schools – thereby ensuring child rights and creating Child Labour Free Zones.
Local Capacity for Peace (LCP) Programme (14 states)
CASA helps communities and local institutions to address issues of resource-based conflict through development planning ensuring that people live with dignity. This type of programme is also conducted with the help of partnerships with organisations.
Farmer Suicide Mitigation and Recovery Program (Maharashtra)
This particular programme is implemented in Maharashtra's drought-hit Yavatmal district where small farmers, sharecroppers, women, landless and other vulnerable people face high debt burden and are susceptible to suicidal tendencies. CASA works on the issues of farmers' suicides and their access to livelihood by incorporating sustainable agricultural practices, building community's resilience for facing environmental challenges among other such models.
CORE PROGRAMMES
The Core Programme is one of CASA's comprehensive interventions in terms of its geographical coverage, issues addressed and strategies planned. Over the years the focus of the programme has undergone transition in response to the local and national realities. In the current format, the core programme is designed to increase the access to entitlements through institutional building and community mobilization.
The core programme of CASA is being implemented in all its four zones and is directly operational in 453 villages, 18 blocks, and 16 districts of 12 states.
These Core Programmes targets groups constituting tribals, Particularly Vulnerable Tribal Groups (PVTGs), Other Backward Classes (OBCs), religious minorities, women, people with disability, small and marginal farmers, landless farmers, agricultural laborers and daily wage earners.
Institution and community leadership building at micro, meso and macro level'
With the institution and community building at micro, meso and macro level, efforts are taken to address the issues pertaining in the grass root level. Due to the lower literacy in the targeted communities there is lack of awareness about various policies relating to their main livelihood sources. The institution and community leadership building pro that support to our targeted communities. It is envisaged that people's organisations and local level institutions would approach bureaucrats for the linkages with various schemes, so that targeted communities with their institution's identity can get the benefits of such government schemes.
Gender Mainstreaming in community and youth leadership building
Gender Mainstreaming is practiced under Core Programme and has focused on sensitization of communities around issues of atrocities against women and girl child, gender equity, discrimination, women empowerment, sexual harassment, domestic violence, etc. also it focuses on livelihood opportunities for women and men.
The aim of Gender mainstreaming is to promote leadership quality among women and at the same time address the issue of gender sensitization in the operational areas.
Youth Leadership Building
Leadership development has been a key strategy of CASA's Core programme. Strong and capacitated leaders are actively mobilizing communities around issues of land, water, livelihood, food security, and access to rights, entitlements and dialoguing with concerned authorities. CASA focuses on youth leadership building as youth are more inclined towards development issues and conscious about the environment, land, forest and various schemes of the government.
Promotion of Sustainable Livelihood
Sustainable livelihood has become a major challenge for the poor and marginalized communities due to the growing gap between rich and poor leading to spike in vulnerability of these communities.
To strengthen the sustainable livelihood in the target areas, CASA is handholding community groups in order to identify and engage themselves towards the livelihood options. These livelihood options will include agriculture, forestry, animal husbandry, other IGPs, CFR based livelihood etc. This will also revive the ecological aspects in our target areas. CASA would be striving towards establishing linkages with government schemes relating to livelihood options for the institutions developed through institution and community building.
Planning, Monitoring and Evaluation (PME)
Periodic Planning and Review meetings at various levels are organised to brainstorm among staff and review of ongoing processes and activities. Exchange visits between the zones is to facilitate the process of learning and sharing among all staff. Following the above context, there is a need to equip the staff of CASA with the technical PME system for which Outcome and Impact Orientation (OIO) is required. The OIO proceedings is to enable the capacity of the staff in terms of project planning, monitoring and evaluation.
PARTNERSHIP PROGRAMMES (Discontinued after 29th September 2020)
Partnership Programmes are implemented as result of collaborations between CASA and other like-minded NGOs who are engaged in supporting the poor and marginalised sections of the society. The NGOs must have a similar understanding of community service and should be in sync with CASA's Mission. CASA's main role is to accompany, extend institutional and capacity building support to the partners for successful implementation of a planned process. Presently, CASA is associated with 500 + direct and indirect partners.
We address a plethora of issues in the partnership model among which sustainable livelihood, women empowerment and development in eastern and north-eastern India constitute our main arena of work.
Sustainable livelihood and Food Security in Bihar, Uttar Pradesh, West Bengal, Chhattisgarh, Madhya Pradesh, Rajasthan and other states
Strengthening livelihood for the marginalised people, besides addressing the issue of forest and non-forest land entitlement.
We are actively working for the welfare of the ailing tea garden workers in Dooars region and vulnerable communities in Sundarbans in East India.
Women Empowerment and Gender Justice in Madhya Pradesh, West Bengal, and Chhattisgarh.
Building leadership and empowering women with support from various NGOs, especially women-headed NGOs.
Development programmes in the North-East in Assam, Meghalaya, Nagaland, Manipur and Mizoram.
We are addressing issues of conflict and insurgency in the region, accessibility and infrastructure problems, prevalence of HIV/AIDS, Human trafficking and cross-border migration due to lack of livelihood opportunities.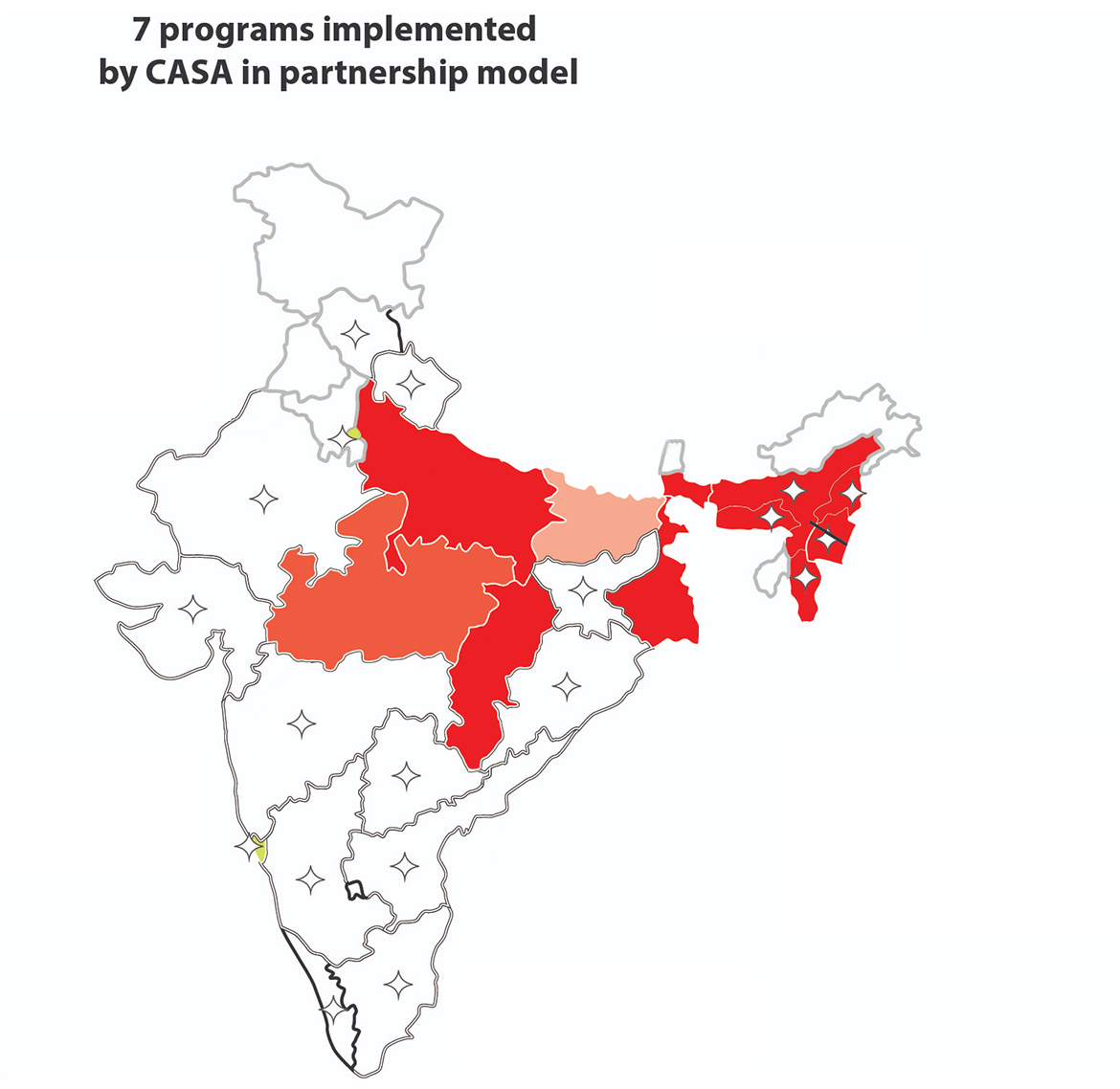 Strengthening Sustainable Livelihood (UP)
Sustainable Livelihood (Bihar)
Womens Package Program (MP)
Phase-II development initiative (Chattisgarh)
Ensuring life with dignity and justice (WB)
Development programs in North East
HUMANITARIAN-RESPONSE
CASA is one of the early responders to major disasters in the country. We reach the most remote parts of the disaster-hit regions where relief might not reach on time due to connectivity barriers. CASA's immediate relief operation makes sure that basic necessities for survival like food, dry ration, clean drinking water, temporary shelters and other utilities reach people at the time of disaster. CASA also believes in rehabilitating and building capacities (subject to fund availability) of the communities, helping them to start life afresh.
Community participation in disaster preparedness is another area which, we believe, is most necessary. CASA conducts disaster management and training exercises for the volunteers and communities to help reduce risks during disasters, in disaster prone areas.
Some recent key programmes/ responses by CASA:
Community Based Disaster Risk Reduction (CBDRR) (Odisha)
Climate smart disaster Programme (Bihar)
Tsunami relief operation and rehabilitation 2004
Uttarakhand disaster relief operation and rehabilitation 2013
Chennai relief operation Floods 2015
Flood Relief and response in Eastern and North-Eastern India 2016
Flood Response (Gujarat, Manipur, Bihar) 2017
Kerala Flood response 2018
Cyclone Gaja relief response 2018
Cyclone Fani response 2019
Assam Flood relief programme 2019
COVID-19 Response across the country 2020
Cyclone Amphan response 2020