Our Journey
Our Journey
Some of our main and major interventions over the years. . .
1947 : Refugee relief during partition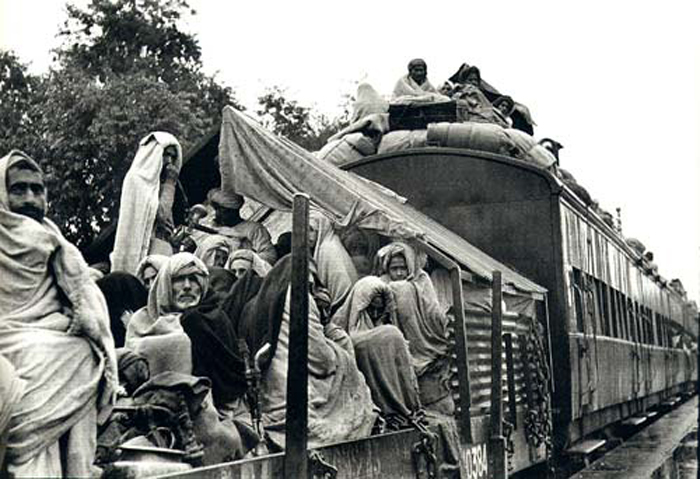 The Independence of India was followed with an unprecedented phase of riots and disputes due to the Indo-Pak partition. CASA's first major relief response intervention took place to help and stand by the rendered refugees in their own country. Providing relief camps, mobilizing resources and volunteers.
1977 : Andhra Cyclone (Diviseema Uppena)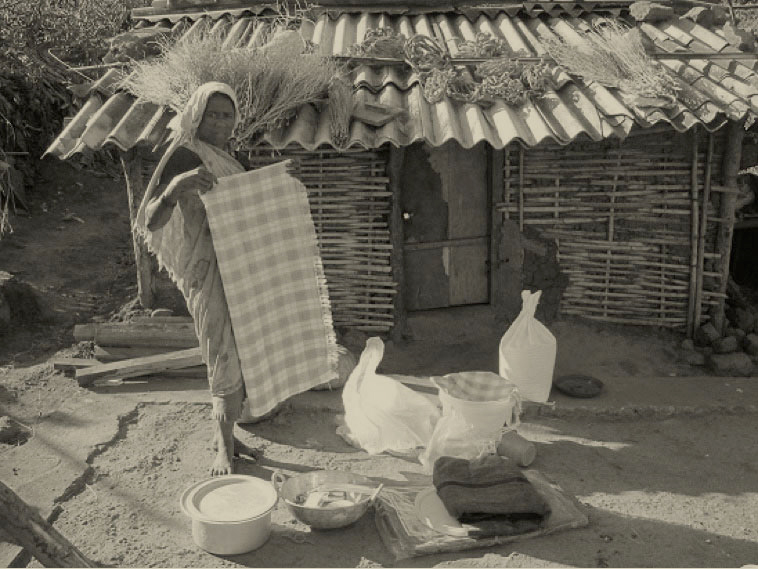 The devastating cyclone of 1977 hit Andhra Pradesh killing more than 10,000+ people and obliterated farming land and property. CASA mobilized relief response to the affected areas and constructed houses for the impacted families.
1990: Machilipatnam Cyclone (Andhra Pradesh)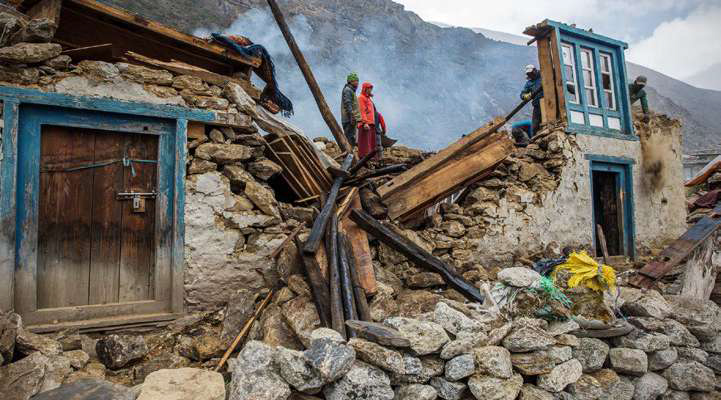 On receiving news of the impending cyclone, CASA immediately geared itself for undertaking relief and rehabilitation operation. CASA's immediate response was in the form of feeding, distribution of relief materials sets, food for work programme, decontamination of wells and tanks etc., providing potable drinking water and minor health programmes.
1993: Lathur Earthquake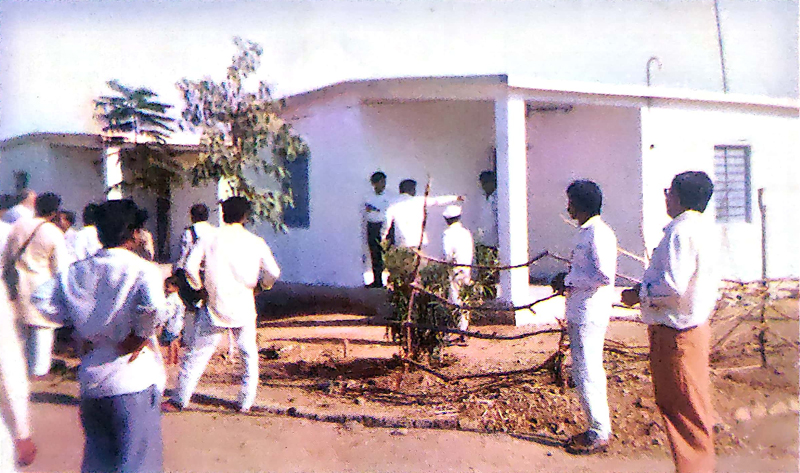 An earthquake with seven recurring tremors devastated 67 villages in districts of Lathur, Maharashtra. As an immediate response CASA's disaster management process was initiated and mobilized relief materials to the affected people and provided with quick shelters and food. CASA also built 2,205 quake resistant housing infrastructures for the affected families in 8 villages.
1999: Orissa Super Cyclone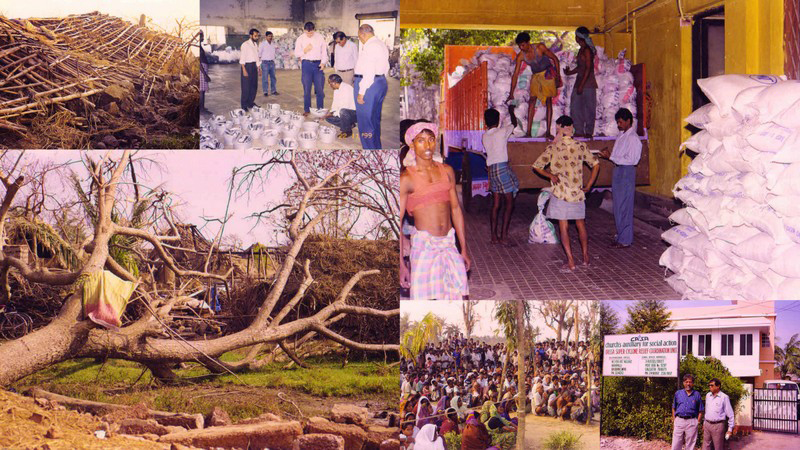 On the 29th of October 1999, the sky and the sea in lethal conspiracy went on a rampage inflicting heinous loses to human and animal population, and biomass existence in the coastal region of Orissa. The cyclone consumed thousands of human and animal lives, uprooted many trees and flattened hundreds of villages.
2001: Gujarat Earthquake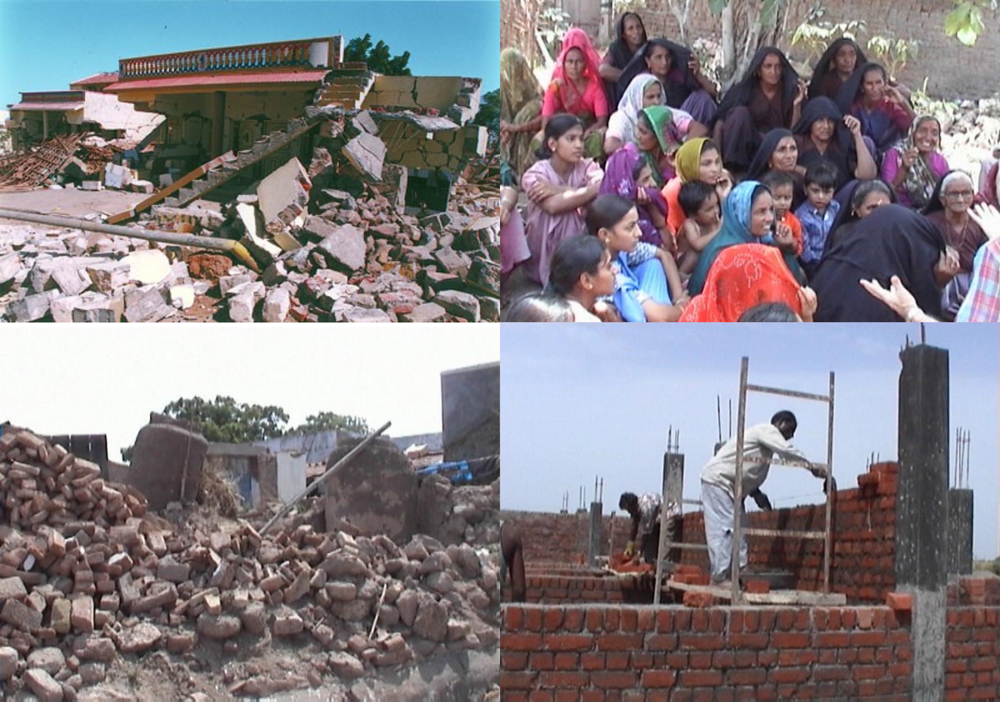 The fatal day is January 26, 2001, the Republic Day of India. The Killer Earthquake measuring 8.1 in Richter Scale shook the earth with little intimation, killing 20,000 people and injured 60,000 people whereby turned the day of celebration into a day of mourning. With a swift response CASA distributed food and essentials and executed rehabilitation programs for a total of 35,000 families.
2004: Tsunami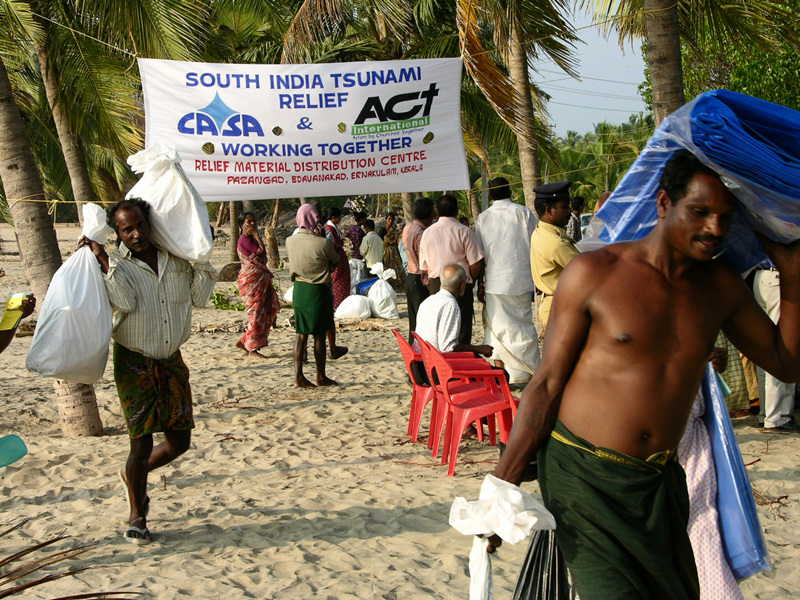 26th December 2004, the world witnessed an enormous tidal calamity which brought death and devastation to 13 countries. This disaster was unknown to our people in India and left exodus population in havoc. CASA was one of the first to come forward and respond to the human calamity. Over 50,200 families on south India were provided relief and dry ration kits. In the second phase CASA provided rehabilitation and housing infrastructure to the homeless.
2005: Kashmir Earthquake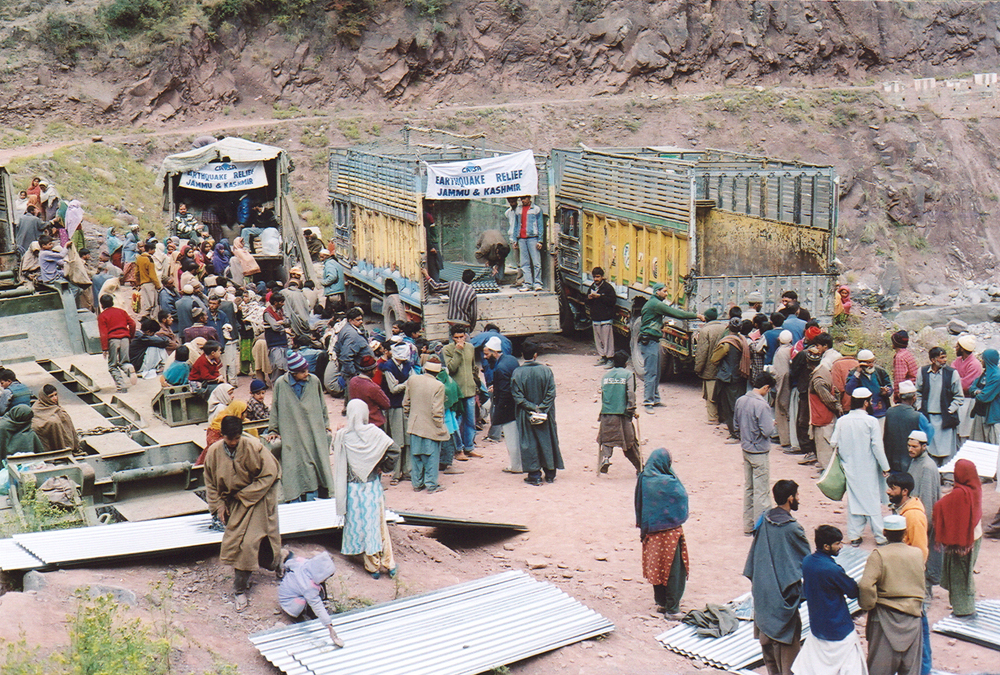 8th October 2005, A powerful earthquake measuring 7.6 on the Richter scale rocked Pakistan and North India, killed close to 1,00,000 people in Pakistan and about 1,500 in India and caused severe destruction. CASA relief response was provided to the affected families and rehabilitation and houses were constructed across 2 villages in Jammu & Kashmir.
2010-11: Flash Flood and Landslide in Ladakh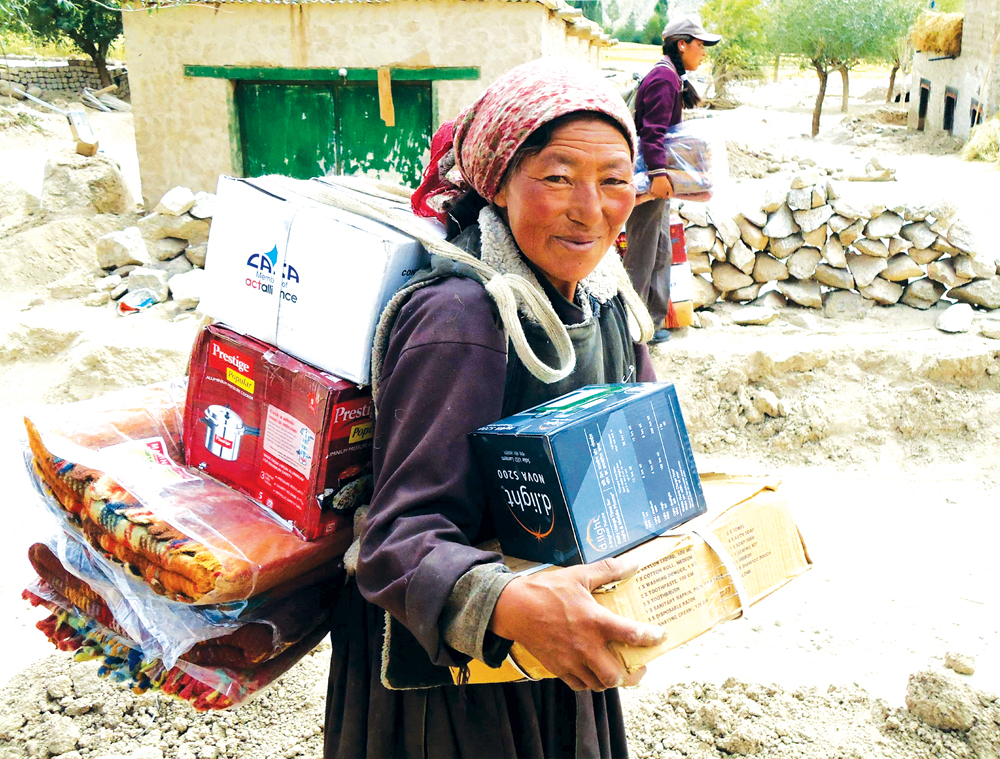 6th August 2010, a spate of cloudbursts led to landslides and flash floods across Ladakh region. It washed away township areas and also portion of Leh-Srinagar highway. CASA's relief response began and the affected families were provided with relief kits and hygiene kits. Canal restoration projects were also done.
2013, 2014: Uttarakhand floods and landslide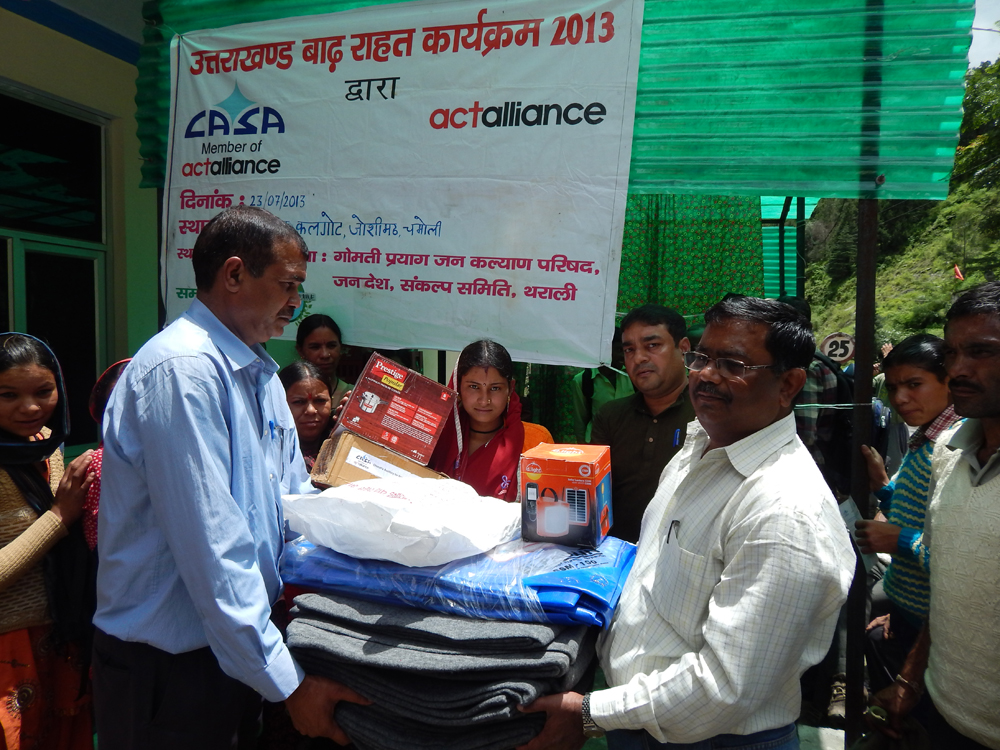 Uttarakhand was hit by multiple floods and landslides due to cloudbursts, in June, 2013. An estimate of 4,500 villages were affected, and over 5000 people were killed. In response, CASA initiated the 'Uttarakhand disaster relief operation and rehabilitation programme'.
2020: COVID19 Response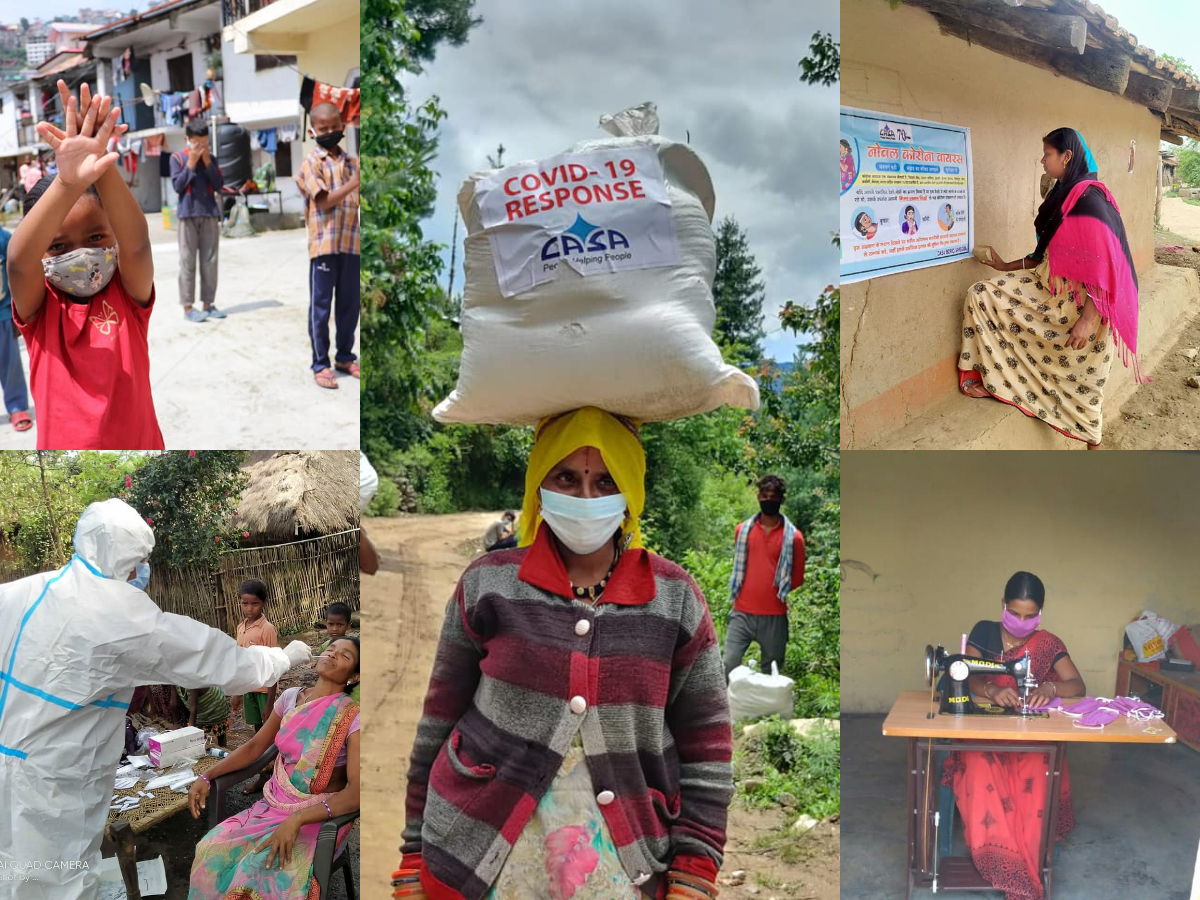 The COVID-19 pandemic in India is part of the worldwide pandemic of coronavirus disease 2019 (COVID-19) caused by severe acute respiratory syndrome coronavirus 2. The Government of India ordered a nationwide lockdown for 21 days and was subsequently extended several times, limiting movement of the entire 1.3 billion population of India as a preventive measure against the COVID-19 pandemic in India.
Since, the beginning CASA has been working with communities across 23 states to ensure support for the people affected the most due to the lockdown. The programmes were focused on Dry Ration Distribution, Cooked Food Distribution, Hygiene Kit Distribution, Spraying of Disinfectants, Cash Support, awareness on prevention of COVID, and Health Camp & Infrastructure Utility.